I've now been home from the Edinburgh Fringe for 3 days, and I'm still in the usual need for recovery. Yesterday I accidentally napped for 3 hours without meaning to. Does that still fit into nap criteria? 3 hours doesn't feel long enough for a sleep but it's definitely way more than a nap. Is it somewhere in-between? A neep? A slap? Who knows. Either way it was great. I'm still devouring food like my body needs to rebuild, which is a shame as I lost weight while in Edinburgh and so I can only assume that now I'm not performing everyday my body needs to rebuild to the same overweight bulky lump it was pre everyday hilly walks. I also have a bit of a cold. Not quite enough for it to actually be a cold but more an occasional random sneeze that just makes carrying plates of food more dangerous than it was beforehand. I'm definitely not quite 100% yet.
I do often wonder exactly what performing everyday for a month does to us comedians. Everyday we get one, or sometimes many more, bursts of adrenaline rushes, with no time for them to fully dissipate. As a diabetic, every time I go onstage my adrenaline rush causes my sugars to rise for two hours, then slowly come down again. I try to curb that with insulin intake, but for everyone else, they are just getting blood sugar spikes in a way that can't be good. I'm pretty sure I've read stuff about why you shouldn't eat meat from animals killed in a slaughterhouse as they die full of adrenaline, then you eat that, then that's bad for you. I can't remember where I read it and it's probably something else entirely, as all I did was feel smug about being vegetarian and mutter 'well there you go' in a self satisfied way to no one in particular.
But more worrying than physical effects, are the mental ones. It's taken me several days to not feel grumpy about choosing to do the fringe again. I left really wondering why on earth I put myself through that to not earn as much money as the last time I was up, to not gain any reviews or connections or anything useful to my future career that I didn't already have and more importantly, feeling like I hadn't pushed myself enough with my show and should've done something better. Heading up to the fringe back in early August I felt really happy with my hour, happy to just be up there performing it, no matter what happened. I told myself I didn't care about reviews or anything like that, I just wanted to really hone a show. Yet four weeks later I felt the exact opposite. And four days after that, I've realised what a grump I was and how no matter how fun or sensible a fringe you've had, the simple experience of doing a show everyday for a month can jst make you hate it through no fault of your own. After a certain amount of shows you stop enjoying saying certain words, start questioning whether any of it is funny, and generally wonder what would happen if you just stopped. This is despite audiences laughing everyday. Or nice comments after. It's like a sort of cabin fever that just bugs me because I'm in the same room every day at the same times saying the same words.
I've realised that the Fringe isn't so much a test of how good you are at comedy, but more how good you are at coping with going slightly bonkers under the circumstances. It's a mental marathon. Once it's all done, you just need a foil blanket and some Lucozade (well, unless you're diabetic like me, in which case Lucozade would make things a lot worse), several days rest and sleep and things start to make sense again. I'm still not entirely sure why I still go to the fringe, but a couple more neeps and I reckon I'll probably start planning for next year. Because like Stockholm Syndrome, I already miss my captor for the past month. Because like a real marathon I'm already certain I could do better next time. In fact there's every chance my grumpiness, semi-cold and need to eat are just withdrawal symptoms from a month long buzz. It is a silly month. A stupid silly month.
---
I rated all my audiences during the fringe this year. Here are all the collected ratings:
Sat 5th Aug show- 4* crowd. Were onboard for nearly all of but didn't laugh at 1 joke I like. I also spoke too fast which prob didn't help though they should've listened quicker. (They were lovely really)
Sun 6th August show – 5* excellent bunch. Would highly recommend to other acts.
Mon 7th August – 4* nice Monday crowd. Star lost by latecomers. Star gained by Stargazing Live's Mark Thompson.
Tues 8th August – 4* crowd. Some excellent loud laughing. Star lost by person who sat behind a pillar despite other seats
Weds 9th August – 4* great crowd for the crap fringe Weds. Extra star for v.late comers who still put money in the bucket
Thursday 10th August: 5* for 95% of the audience. 1* for the 3 men who came in late, tripped over a dog, sat in the front row & huffed & sulked taking all energy out of the room like total bellends. There is always at least one show like this every fringe. ?
Friday 11th August – Fri – 5* top crowd. Extra points to couple who had to leave before end but warned me pre-show. Can come again.
Saturday 12th August – 5* crowd. Great bunch including 7 month old Aida who was lovely despite all her heckles. Would recommend to other shows.
Sunday 13th August – 4 1/2* today: lovely Sunday crowd. Would book them again. 1/2 lost by woman at the back who checked her phone.
#EdFringe audience reviews: Mon 14th -5* proper great crowd. They should give TED talks to advise other audiences
#EdFringe audience reviews: Weds 16th – 5* great bunch & extra stars gained by latecomers missing half show but still putting notes in the bucket
#EdFringe audience review: Thurs 17th – 4*. Good reasonable crowd. Nothing new but what they did have was expressed confidently.
#EdFringe audience review: Fri 18th – 5*! Most packed room & no one started a fire. Most generous bunch too. Acts, def get them in if you can.
#EdFringe audience reviews – Sunday 20th – 3* Very nice but all smilers. Extra stars for the 4 good laughers. Minus points for whoever gave donations in US dollars & the man who fell asleep before I even started.
#EdFringe audience review – Mon 21st – 5* crowd. Lovely good laughers. Extra star for Max the dog who was great. Would see again.
#EdFringe audience review – Tues 22nd – 5* crowd. Lovely laughers. Didn't mind me being heckled by an ambulance. Hopefully they'll tour.
#EdFringe audience review – Weds 23rd 3* Tough work today, but stars gained by the 5 people who's laughs made things better. Could try harder.
#EdFringe audience reviews – Thurs 24th – 5* crowd. Laughed in all the best places. Even person with default sad face did their best.
#EdFringe audience reviews – Fri 25th – 4*. Good solid crowd aided by one laugher in particular. They are obviously the group captain. Definitely show promise.
#EdFringe audience reviews – Sat 26th – 5* proper good bunch. Laughed in right places despite warmth of room. Hope other acts get them in
Final #EdFringe audience review – Sun 27th – 5* Small but perfectly formed. Would see again. Nice end to it all.
---
And here's all my collected regular fringe updates from Facebook where you can witness the cabin fever kicking in as it happens:
Things I've learned at this year's Edinburgh Fringe Festival 2017 so far, Part 1:
– The woman we rent our flat from was right. You never ever do get used to 3 flights of stone stairs. 
– If you have a really big poster & I haven't heard of you I probably won't see your show on account of your belief you deserve a really big poster.
– Leith is really nice. Being able to see the sea makes the fringe much easier.
– You can't earn money at the Free Fringe if you're in a smaller room than you were meant to be in.
– €1 coins look really like the new £1 coins from a distance. More fool the people that put them in my bucket though, as they're now worth more than £1 in some airports.
– All these shows are brilliant: James Adomian, Bec Hill, Andy Daly, Anna Mann, Tez Ilyas, Trygve vs a Baby, Grainne Maguire, ACMS, This is Your Trial.
– Robot parrots are allowed according to bag searches.
– People who drive in Edinburgh are much much nicer on the road than people who drive in London. But they also park like arseholes.
– Harmonium is an amazing vegan restaurant. Paradise Palms does great vegan food but is very dark and seems too busy for the amount of staff they have. However they do have an old Street Fighter arcade downstairs so extra points for that.
– Crowdie is the shiiiiiiiiiit.
– I've still not read any reviews of anyone and I am much happier about everything in general because of this.
– Andy Daly is really really nice in real life and that's very pleasing to find out.
– People apologising for not having any cash to donate at the end of your free show because 'I haven't been to an ATM yet today' or 'I've spent it on other shows already' is the worst.
Things I've learned at this year's Edinburgh Fringe Festival 2017 so far – Part 2:
– Mary's Milk Bar was obviously created by some sort of deity.
– Having a dog come to your show is the best. Thanks Millie the dog.
– Having drunk twats stumble in 15 minutes into your show, then sit in the front row and huff and complain throughout but also refuse to leave, is the worst. On the plus side, I've definitely wasted at least 45 minutes of their lives they'll never get back.
– The venue I'm doing my show in, The Waverley Bar, is also where Billy Connelly did his first ever gig. As if this fringe didn't have enough pressure already.
– These shows are also great: Mark Thompson's Science Spectacular which made a boy maniacally laugh at an exploding balloon, so if that isn't proof it's a good family show, nothing is. Sage Francis and B.Dolan's Tricknology is excellent fun.
– When you order a toastie at The Wee Bite on St.Mary's Street, they give you two toasties. This is easily the best thing I've ever discovered.
– Despite booking them separately, it's odd how many Comedy Club 4 Kids posters are placed right next to my posters. It's like the poster people know something,
– Asking everyone to tweet or Facebook about your show means only 1 person that day will do it. This is still better than 0 person.
– Asking everyone to give you money at the end of your show means one person will give you a banana. Luckily, I really fancied a banana so that was ok. Now to work out how to pay for things with bananas.
– I've still mostly avoided looking at reviews but have seen two where the reviewer was annoyed that the act they were reviewing wasn't a completely different act. I don't understand this at all. Both complained that the acts weren't 'dangerous' or 'risky enough' despite the acts really not being dangerous as that isn't who they are. It seems the only way to get good reviews from some critics is to come to the fringe as an entirely different person, one that they like.
– It's impossible to do a low carb diet in Edinburgh. By that I mean I've really not even tried.
– I could Instagram the view from my flat's window every single day but I'm trying not to because that would be boring for everyone except me.
– There is an art to making a brief but polite amount of small talk whilst bumping into someone you know as they walk past you. Tom Allen is a true ultimate master of this and I hope to learn from him one day.
Things I have learned at EdFringe this year. Part 3 (as it is my day off and now I have time to do this):
– I'm still not able to go up the stone steps to my flat without hating the very fabric of existence itself. On the plus side I think I now have legs so powerful that I could kick a horse to death. I won't, and have no intention to do that, obvs, but you know, if I had to, I reckon I totes could.
– Despite a complete lack of official reviews of my show I've had nice crowds pretty much every day and people have tweeted nice things about the show too. This is, I think, better.
– Speaking of reviews, more and more stars on posters are from sites I've never heard of and I worry that post-Edinburgh people in the real world won't give a shit about. On the plus side, if you're broke and want free press tickets, why not start a blog where you throw random words that sound like they're trying to be coherent sentences up into a post, stick a show title at the top and some stars and I'm pretty sure you'll get a press pass asap.
– I keep reminding myself that really anything I'm bothered about at EdFringe is not as scary as a) Nuclear war possibilities, b) the rise of racist arseholes, c) David Davis's unbelievable stupidity, or d) spiders. Especially big spiders. Also that no matter how many shows/anything else I'm excited about at EdFringe, none of it is a patch on how excited I am about a) Game of Thrones, b) The Defenders and c) that they sell Tomato Ketchup flavoured Walkers everywhere in Scotland.
– There are a lot of very vague shops in Leith and I like this attitude. Near me are: 'Bacon Rolls Etc', 'Window Cleaning Stuff' and 'Pets and Things'. I spend a lot of time thinking about the conversations that led to the names of these shops. 'Hey wadda you sell?' 'Pets pal.' 'Anything else?' 'Yeah, things'. I think that's about it.
– James Loveridge has a great non-Fringe story.
– Bryony Redmond has a very nice flyer indeed.
– The show before my show at the Waverley Bar everyday is really brilliant and is not getting very good crowds. He's an Aussie character/sketch comic called Wyatt Nixon-Lloyd and I stayed to watch his show yesterday and laughed out loud loads. Really funny, very silly show and genuinely one of my favourite things I've seen at the fringe so far. He's not had any reviews either, but if you fancy something a bit different, brilliantly bonkers, and superbly performed, go along at 13.15 at the Waverley Bar everyday except Tuesdays.
– Other shows I've really enjoyed are: Sage Francis and B.Dolan's Tricknology which was brilliant. Keith Farnan's work in progress show which was great but is now finished so you can't go. Also At A Stretch which was a beautiful physical theatre show for kids about two women who fall in love. Thought it was properly brilliant. But that's also finished now (well on the 15th) so you can't go to that either but it is going to do a Scottish tour in the Autumn. Also Imaginary Porno Charades was a lot of fun to be part of. My team lost but we'll always have 'Sliding Whores'.
– I've had that moment in my show where I've wondered if I've repeated myself and realised, no, that was just me saying the same words yesterday. I've also had that moment where I really enjoyed my show, then really hated my show, then felt ambivalent about it. I'm now pretty happy with it again. Win.
– Clive Anderson bought me a pint yesterday. Win.
– Apparently my show is one of 4 I've heard about so far that take the piss out of Flat Earthers. I guess people all around the world laugh at them.
– I've only had 4 beers and one crepe all fringe. I have walked between 10-13km a day though, so I feel like I should eat and drink a lot more crap if I want to maintain the body shape I need to keep three of my favourite jokes about my lack of exercise. This could get tricky.
– Having a stroll on Portobello Beach is a great way to ignore your show for an hour.
– I have now normalised rain. I didn't even bother to wear my mac on one day and just walked home through a downpour thinking the whole time 'yeah this is fine.' Awful times.
Things I have learned at this year's Edinburgh Festival Fringe, part 4:
– My show finally got a review and it was a lovely 4* from ThreeWeeks Edinburgh which was very nice of them: http://www.threeweeksedinburgh.com/…/tiernan-douieb-misera…/
– Speaking of reviews, as per my earlier grumbling that posters now have stars from local community radio stations etc and they are somehow being given the same gravitas as established papers, I have also noticed certain comedy websites are using algorithms to collate all reviews of acts, including things people on twitter with only around 200 followers think. This is a) bizarre and b) really making me wonder if I should set up an account to just give all my pals 5* endlessly hoping it'll add them all up so it looks like everyone is smashing it. I won't do this. But I might.
– Mark Forward's show at the Gilded Balloon is the best show I've seen this year. I howled laughing at it. Never seen stand-up quite like that. Completely unconventional, silly yet dark. It's so nice when a show inspires you to really try other things with your act. Not that I could do something like that of course. But I'm really considering trying something very different next time as a result. I'll probably forget this in a week and go back to the same old shit, but until then, consider me inspired.
– Barry Crimmins at the Stand was also inspirational in a very different way. I loved that the last 15 mins of his show wasn't jokes, but a serious talk on why we shouldn't let public institutions be destroyed by governments, and his dismay at the situation in the US right now and the need to fight it. The 45 mins before was hilarious but I thought about that last 15 mins for ages. I spoke to him after and mentioned that I wasn't doing topical stuff this year as I didn't want to re-write it every 5 minutes. He said it doesn't matter if news moves faster than your material as long as your material is how you really think and feel. I liked that. A lot.
– I've really not seen enough female acts this year and I'm feeling very bad about it but everyone I want to see clashes with something I'm doing. And this is how the patriarchy wins. Probably.
– I overheard a conversation outside one of the venues on Friday where a staff member was talking to a reviewer who was angry that the show was running late. The staff member told her it was because they were understaffed and he was working between 9-12 hours a day on only £3 an hour. He said the people working there who have wealthy families don't mind, but others, like him, are really struggling because it's not enough money to live up there and he's having to flyer for people and earn other cash in between so he's exhausted. This is really grim stuff. It makes no sense that so much money gets flung around the fringe but those working on it to make it happen are on less than half the minimum wage. I know Unite The Union have highlighted this already but do question your venue if you can, and sign the petition at this site that's trying to make a change: https://www.fairfringe.org/
– Everyday I look out of my flat window there is a little dog in the window opposite me, just staring at me. I've attached pics of it, night and day. I did enjoy it but I'm now starting to wonder if it's spying on me, warning me, or just writing sarcastic twitter and Facebook posts about this idiot that keeps staring at it whenever it looks out of the window.
– I've now walked up so many hills and steps that my legs are so hench I reckon I could kick a horse to death. I mean, I don't want to, but should the situation arise, I reckon I can get on that. My upper body is still a mess though so I'd have to kick it to death as running away from it would just exhaust me.
– On my day off I went to Lauriston Castle and Cramond Island. These are both excellent places with beautiful views. However, even with my attempts of escaping from the fringe, there was a fringe venue at Cramond Beach, miles out of town. It was an art gallery but still. C'mon guys, where does this festival end? I'm terrified I'll return home to find a fringe venue at the end of my road in London, and I'll be trapped in a never ending cycle of performing my show everyday until I go completely bonkers. Which, to be fair, I'm not too far off from at the mo.
– I had to miss doing a show on Saturday to fly back to London for my good pal's wedding and then flew back Sat night. The wedding was lovely, all the speeches were ace and it was temporarily nice to pop the bubble for a min, despite me being hugely disorientated by it all. I spent 20 minutes talking to a wedding guest who is a farmer out in the west midlands. He voted to leave the EU because of various farming regulations that affect him, but didn't want freedom of movement to end as he needs it and thinks it's great. He's sat on various Brussels farming panels and felt things had to change but he's now very dismayed at the way the government is handling everything. It was the most sensible and informative chat I've had with a leave voter about it for ages and we both acknowledged why we each voted how we did (he also said his wife voted stay and his kids voted differently from each other too). Some of the farming regs he told me about seem bonkers (having to destroy fields of corn because the cobs had one row of kernels too few etc), time wasting and money wasting (not that he's changed my mind on how I feel about things). Gave me hope of possibility unity at some point. Once we punch all the Nazis, obvs. Also a man in Heathrow had his Assembly venue pass on, before even boarding the flight back to Edinburgh. I've decided he's the worst person at the fringe.
– The tram from Edinburgh airport to town stops running at 22.48. But they will still let you buy a ticket for it at 23.05 without telling you this info. Thanks guys. Thanks.
– I've been giving away these little cards (pics attached) that link to my page on NextUp Comedy. I've pretty much run out now, so if you'd like to subscribe to that brilliant service and watch my old shows, head to www.nextupcomedy.com/tiernan. You can get a free month's subscription when you first sign up.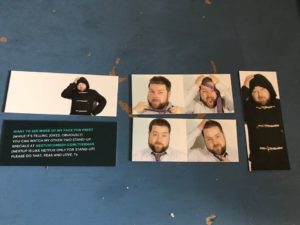 – When a friend asked me 'where should we go to eat to get good food with cheese in it?' I genuinely didn't know. I've realised this is because, in Edinburgh, the answer is 'Everywhere.'
– It is really nice meeting Twitter followers in real life, and not yet creepy. Yet.
Things I've learned at this year's #EdFringe part 5:
– The last week is definitely the worst week. It seems there are less audience around than before, kids in Scotland have gone back to school so children's shows have either stopped or are struggling, and I've now said my show words so many times I feel like I'm going slightly mad. Everyone I meet, as they have done for several years now, keeps saying 'it should just be two and a half weeks.' Yes. Yes it should.
– Jarvis Cocker and Chilly Gonzales's 'Room 29' at the Edinburgh International Festival was just beautiful, soul lifting and perfect. Chilly Gonzales then followed me on Twitter & I don't care how shallow it is that I got all excited about it.
– I am very pleased for all the comedy award nominees but I'm especially pleased for Lucy Pearman, who even though I haven't seen her yet this year makes me laugh every time I do, Jordan Brookes, who's show is just amazing, Elf Lyons who is also just naturally funny and Rob Kemp because Elvis Dead was a proper proper joy of the kind I feel Edinburgh Fringe should be about. All the rest are champs too obvs but having 9 nominees seems odd, like no one could agree on anything.
– I forgot to mention on the last post that Rob Auton's show was lovely too. Though it was slightly ruined for me by a man in the row behind me who laughed like a maniac at every set up and punchline and bits in between and pauses. Sometimes, laughs are bad.
– Yesterday a woman left my show 15 minutes in because 'It's not you. Its just it's sunny outside and I only have one day left.' I said in shock 'Only one day left. I'm so sorry to hear that' which got a laugh thankfully. She did not look amused. I felt very pleased with myself.
– I've now met 3 comedy people I properly look up to and they were all lovely. Which is nice.
– Nick Doody's 'poo tiger' routine is one of my favourite ever bits of comedy for children. And for adults. It doesn't matter how many times I hear it.
– I'm walking around 6 miles a day, everyday, according to my iPhone steps thingy. I'll give boring full figures in my last post, but right now, I feel like I need a foil blanket & some Lucozade.
– Geoff Norcott, Paul Sinha, Tom Ballard and of course Andy Zaltzman were all brilliant at Political Animal the other night. It was a pleasure to be on a bill with them. Despite me having a bit of an all over the place set because my brain isn't working properly with words anymore.
– After having one lovely review last week, I had a much less lovely review this week. I honestly couldn't care, but what irks me is that the reviewer came to my show on day one, when he was booked in later in the run. He had something cancelled so said to me, 'you don't mind if I come today do you?' and I politely said 'no' while meaning 'yes' because I was too worried about remembering the bloody thing. However the date on the review is from this week. Still on the plus side the comments underneath (attached) have very much cheered me up, as has knowing they've reviewed other comics I really like in much the same way.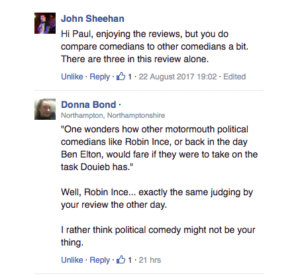 – On the subject of reviews, Josie Long told me she got reviewed for her work in progress show. I looked it up. One of the complaints in the review is 'it's a lot like a work in progress show.' Fucking idiots.
– I've still not seen enough other shows this fringe.
– I went to see Ann Pettifor do a talk at the Edinburgh Book Festival and it was superb. I haven't read her book 'The Production Of Money' yet but skimming through the first few pages, it's so very accessible. If you have qualms about understanding economics I'd highly recommend looking her up. I would put other highlights but I'm interviewing her for my podcast next week so hopefully she'll repeat some stuff on that.
– Nearly all my audiences have been lovely except 11 people in 3 shows.
– I ONLY HAVE 4 SHOWS LEFT! THEN I'M ALLOWED TO GO HOME!
---
If you would like words from me direct to your mailbox, please sign up to my mailing list at www.tiernandouieb.co.uk/contact. You only get one a month and that's it. Even if you ask nicely.
My Partly Political Broadcast podcast starts again next week. Check it out here:
iTunes: http://apple.co/1THB5KW
Acast: http://bit.ly/2pAVxYw
If for some reason you want to sponsor me to do the podcast or write stupid blogs about toast or try and spend time touring my shows or even just have extended writer's blocks, then please head to my Patreon at:
Or buy me a coffee at ko-fi.com/parpolbro